Photonic Solutions' Webshop
Photonic Solutions' Webshop is our on-line shop where you can purchase "off-the-shelf" lasers and optoelectronics products. For more customised products, that aren't available to purchase online, please choose the "PoR" (Price on Request) option and we will get in contact to discuss the right system for your application. You can use the product categories or the search facility to browse through our range and find the product you are looking for.
Product Categories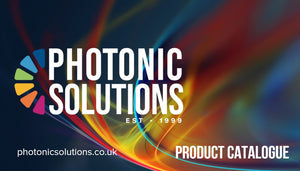 Download Our Catalogue
We have added some fantastic companies in the past year which bring exciting product lines to complement our existing portfolio and to offer as wide a range of photonic products as possible. New companies include Alluxa, i2s, Jireh Scientific, Lexel Laser, MOGLabs, New Scale Technologies, Sciencetech, Sound and Bright and 3DOptix, Quantel, Opotek, and HC Photonics. All are world class manufacturing companies offering a great range of products.
This Short Form Catalogue can only present a small sample of all of the products we offer, but to access the latest and most detailed information, we suggest that you use it in conjunction with our web site.
Download Now
Find Us
Unit 2.2 Quantum Court
Heriot-Watt University Research Park
Edinburgh, United Kingdon, EH14 4AP
Mon - Fri, 9am - 5pm